Robert Trevino has rapidly emerged as one of the most exciting American conductors performing today and one of the most in-demand talents of the younger generation; Music Director of the Basque National Orchestra.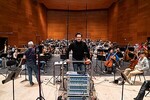 After five years as Chief Conductor, the Basque National Orchestra extends Trevino's contract in perpetuity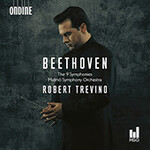 Malmö Symphony Orchestra/Robert Trevino
Kate Royal (soprano), Christine Rice (mezzo-soprano), Tuomas Katajala (tenor), Derek Welton (bass), MSO Festival Chorus
This new Beethoven symphony cycle with Malmö Symphony Orchestra is conductor Robert Trevino's debut release on Ondine. Trevino is one of the fastest rising young conductors and known for his fresh and vivid interpretations of both standard repertoire as well as contemporary works. Currently Trevino is holding the tenure as chief conductor of the Malmö Symphony Orchestra and as music director of the Basque National Orchestra. After studies with conductors David Zinman, Seiji Ozawa and Michael Tilson Thomas, Trevino worked closely as Leif Segerstam's assistant before making his debuts with a number of leading symphony orchestras worldwide. These Beethoven symphonies were recorded in connection with a Beethoven festival which was arranged in Malmö, Sweden in October, 2019.
"If there's any way to characterise Trevino's approach to Mahler, it is that he is neither bashful nor shy. Trevino had the orchestra running on all cylinders and then some – the NSO has rarely sounded so rich, so controlled and played with such attention to detail."
— Bachtrack