Robert Trevino has rapidly emerged as one of the most exciting American conductors performing today and one of the most in-demand talents of the younger generation; Music Director of the Basque National Orchestra.
On the release of his second Ravel disc with the Basque National Orchestra, Robert Trevino tells Gramophone magazine of the success of their music making, rooted in friendship and commitment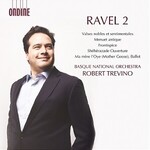 Maurice Ravel:
Valses nobles et sentimentales
Menuet antique
Frontispice (orch. Boulez)
Shéhérazade Ouverture
Ma mère l'Oye (Mother Goose), Ballet

Artists: Basque National Orchestra
Robert Trevino, conductor
Genres: Orchestral
Features:
Sleeve notes in English, Basque, Spanish, French
World première recording of the orchestration of Frontispice by Pierre Boulez
"If there's any way to characterise Trevino's approach to Mahler, it is that he is neither bashful nor shy. Trevino had the orchestra running on all cylinders and then some – the NSO has rarely sounded so rich, so controlled and played with such attention to detail."
— Bachtrack