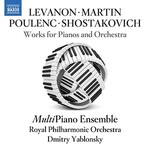 In their 10th anniversary season, MultiPiano Ensemble — the leading Israeli piano collective led by Tomer Lev that explores repertoire created for multiplicities of pianists — releases its second album, alongside the Royal Philharmonic Orchestra, conducted by Dmitry Yablonsky. And, like the accolade-winning first album, it includes important rarities, this time two major reworkings of mold-breaking Twentieth Century classics, as well as the world premiere recording of an Israeli work, and a core repertoire favourite.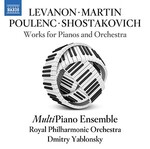 Martin, Frank: Petite symphonie concertante (arr. T. Lev for 3 pianos and 2 string orchestras)
Poulenc, Francis: Concerto for 2 Pianos in D Minor
Shostakovich, Dmitry: Concertino for 2 Pianos, Op. 94 (arr. T. Lev for 2 pianos and string orchestra)
Levanon, Aryeh: Land of Four Languages (version for 2 pianos 8 hands and string orchestra)
Concertante orchestral works for more than one keyboard instrument saw a revival after the First World War with the neo-Baroque trends of the time helping to revitalise the neglected concerto grosso genre. Recorded here in a new version with three pianos, Martin's Petite symphonie concertante reflects the dark tensions of the Second World War, while Poulenc's delightful Concerto for Two Pianos is infused with the spirit of Mozart in its rich and eclectic stylistic tapestry. Shostakovich's Concertino, in a new orchestral version, shifts between superficial Soviet entertainment and heartfelt expressiveness, and the songs quoted in Aryeh Levanon's Land of Four Languages symbolise a hope for peace and harmony in Israel.