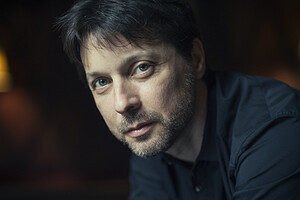 A winner of the Evgeny Svetlanov Conducting Competition and Luigi Mancinelli International Opera Conductors Competition, Valencia-born conductor Roberto Forés Veses conducts at many of the world's leading orchestras and opera houses. And the forthcoming months will see debuts and returns with, among others, the English Chamber Orchestra (at London's Cadogan Hall), Russian National Orchestra, Orchestra Sinfonica di Milano Giuseppe Verdi ('La Verdi'), Hong Kong Sinfonietta, Sinfonietta Lausanne, Orchestra National de Pays de la Loire (ONPL); Orchestre National Bordeaux-Aquitaine, Orquesta de Valencia; Filharmonia de Galicia and Opera de Reims. He will lead a national tour of the Israel Camerata, will tour the Orchestre National d'Auvergne to Monte-Carlo, and will lead a co-production of Bellini's La Sonnambula at four French opera houses.
From 2011 until 2020, Forés Veses was Chief Conductor and Artistic Director of the Orchestre National d'Auvergne - where he presided over a chamber orchestra tradition famous across France and internationally, and oversaw the ensemble's elevation to France's 'national'-level orchestras. Under his directorship, the ONA became much-in-demand as a recording orchestra - making many recordings, mainly for Warner Classics and boutique label Aparte Music, and in 2019 Forés Veses launched the orchestra's own label. He has led the orchestra on several international tours, including to Japan, South-America and Brazil.

Equally devoted to the symphonic and operatic repertoires, Forés Veses has conducted at the Bolshoi Opera, Teatro Regio di Torino, and at the opera companies of Montpellier, Helsinki, Lyon, Rouen, Saint-Etienne and many more. The many orchestras he has conducted include the NHK Symphony, Saint-Petersburg Symphony, Orchestre National de Lyon, State Academic Symphony Orchestra of Russia "Evgeny Svetlanov", Orchestre de Chambre de Lausanne, Hong Kong Sinfonietta, Orchestre Philharmonique du Luxembourg, Prague Philharmonia, Het Residentie Orchestra (Netherlands), Orquesta Sinfónica da Porto Casa da Música, Orchestre National de Bordeaux-Aquitaine, RTVE Symphony Orchestra (Madrid), Orquestra de la Comunidad Valenciana, Orquesta de Valencia, Orquesta de Extremadura, Orchestre de Chambre de Paris, Orchestre National de Montpellier, Orchestre Philharmonique de Nice and others.

He regularly performs at many international festivals, including La Folle Journée de Nantes and Tokyo, La Chaise-Dieu, Murten Classics, Stresa Festival, Les Flâneries musicales de Reims, Festival de la Vézère, Festival de Polignac, Festival Bach en Combrailles and the Berlioz Festival. In 2018 he was invited to join select other Svetlanov Competition winners in a special festival marking the 90th anniversary of Svetlanov's birth, at the Tchaikovsky Conservatory in Moscow.
Maestro Forés Veses has made more than a dozen recordings. Recently released is Beethoven's Violin Concerto with Alena Baeva; coming soon are Chopin Piano Concerto No.1 with Nicholas Angelich (Warner Classics); Strauss's Metamorphosen with Schoenberg's Verklärte Nacht; Mahler's arrangement of Schubert's Death And the Maiden, and symphonies by Roussel, Honegger and Jean Rivier.

"A remarkable talent. (Roberto Forés Veses) does not direct a score, he is the score...as some play an instrument, he plays the orchestra...in total fusion with the performers." - La Montagne