Mark continues his sensational work with Somm Recordings as his latest album of Delius and Grieg, with the Royal Philharmonic Orchestra under Jan Latham-Koenig, receives four of Classical Source's brightest stars from reviewer Colin Anderson...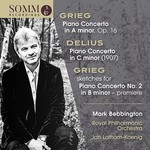 An evergreen masterpiece, an under-appreciated jewel and a great 'what might have been' – Mark Bebbington and the Royal Philharmonic Orchestra,conducted by Jan Latham Koenig, explore the personal and musical connections between Edvard Grieg and Frederick Delius for Somm Recordings.
I would rate this new disc as being the finest version of the revised concerto [Delius Piano Concerto] that I have heard. Again it is the potent fusion from Bebbington and Latham-Koenig of the lyrical and the rhetorical that is so compelling. They clearly relish both the big gestures and the gentle musings.
— MusicWeb-International