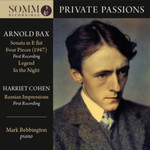 Released earlier this year, Mark Bebbington's latest CD 'Private Passions', featuring the music of Arnold Bax and Harriet Cohen, has been getting rave reviews across the board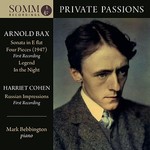 Pianist Mark Bebbington's long association with SOMM Recordings has produced a remarkable array of recordings championing newly discovered British music.
Pairing the piano music of Arnold Bax and Harriet Cohen, his latest disc includes eight first recordings and promises fresh insights into the music of a revered English master and revelatory performances of an overlooked composer who subsequently found fame as a pianist.
The result, Private Passions, is an illuminating dialogue between one of the pre-eminent British composers of the last century and his muse who together shared a 42-year-long love affair.
Those who have followed Bebbington's career will already know of his flawless technique and his wide and commensurately deep understanding of the repertoire, and those who have not made that journey who were in the audience would have been astonished at the depth of his perception of these masterworks as well as his sterling ability to convey his interpretations by way of a simply flawless technique.
— Classical Source